Endermologie ®
The Ultimate Advancement in Cellulite Reduction
Cellulite is a hereditary condition occurring mostly in females where fat globules in connective tissue bundles pucker up under the skin.

Endermologie is a non-surgical, non-invasive, comfortable, and patented technique that reduces cellulite and inches. It is an easy alternative before liposuction and instead of body wraps and messy creams.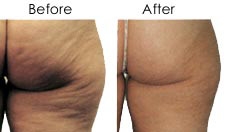 Discover the beauty of a figure that inspires self-confidence. Renew the tone of your skin with the ultimate advancement in skin conditioning. This unique massage stimulates your body with deep soothing motions that actually reduces the appearance of cellulite temporarily.
*Results may vary for each patient.
Endermologie uses a mechanized device that uses rollers and gentle suctioning to deeply massage affected areas. Endermologie increases circulation by 200% to help your body expel toxins and abnormal water buildup while stretching lax connective fibers under the skin. These LPG ®-patented therapeutic massagers also produce an amazing sense of relaxation while relieving tense and sore muscles.
A Winning Technique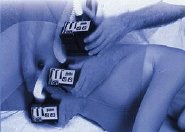 Treatments are administered by a technician who will gently guide the rollers over your resting body. Specific maneuvers work various layers of your skin to stretch connective fibers. Individualized protocols applied over the whole body move skin layers to rebalance connective tissue. Programs are adapted to specific cellulite conditions to reduce the strain on fat globules. Treatment intensity is adjusted for every region treated. Treatments last 35 to 50 minutes and are given once to three times a week.
Getting Started
Women and men from Westchester County, Manhattan, and other parts of New York City visit dermatologic cosmetic surgeon Dr. Rhoda Narins for wrinkle treatments, liposuction, and laser skin treatments. Call (212) 288-9910 (Manhattan) or (914) 684-1000 (White Plains) to schedule an appointment and learn more.

If you have imagined a slimmer, trimmer, firmer figure, you have imagined the shape of things to come -- your shape. Now with ENDERMOLOGIE and a healthy lifestyle, you can create the beauty you have seen with your mind's eye.