Instalift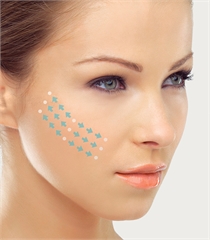 A silhouette instalift or sculpting lift is a minimally invasive face-lifting procedure used to counteract sagging skin and fill in contour defects. Four to twelve elevating sutures are used depending on your need. These sutures can be used to lift the cheek, jawline and jowl and neck. Your skin looks younger and smoother. It looks even better 2-3 months later as your skin makes its own collagen.
The Silhouette Instalift ™
Available at our office, the Silhouette Instalift™ is a suture-lifting procedure that can recontour and lift the face. This short in-office procedure typically takes about 45 minutes to complete, which is why it is often referred to as the "lunchtime facelift." Dr. Rhoda Narins uses sutures with bidirectional cones to lift and reposition the skin. In contrast to comparable treatments, the Silhouette Instalift involves absorbable sutures that go into the skin and encourage it to create new collagen. Patients have minimal recovery time afterwards and can see immediate results. The procedure is virtually painless.
Getting Started
To learn more about the Silhouette Instalift and how a suture-lift could counteract the effects of aging on your face, get in touch with our office. We welcome the chance to talk to you about options in a private consultation.
Call us at (914) 684-1000