Narins Gold Super Facial Treatment Series Westchester
Dr. Rhoda Narins now offers the Narins Gold Super Facial to her patients in and Westchester. She uses a microchannel microinjector that is designed to inject therapeutic agents, such as fillers and BOTOX. The Narins Gold Super Facial Treatment is a series of 3 monthly treatments, with maintenance treatments at 6-month intervals, provides the following results:
Smooths and brightens skin
Minimizes pores
Moisturizes skin from within
Promotes new collagen growth
Smooths wrinkles
Treats fine lines
Smooths acne scars
How Narins Gold Super Facial Treatment Works
During your consultation, Dr. Narins will determine the appropriate therapeutic agent based on each individual patient's skin type and concerns. After cleaning the area to be treated, Dr. Narins will begin the Hydrafacial. Each device features twenty microchannels containing miniature spiral grooves constructed to micro dose and inject the therapeutics.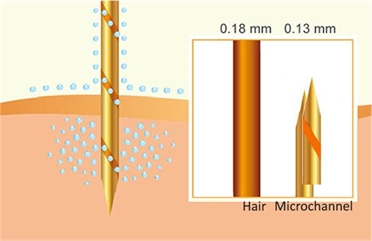 The microchannels are each thinner than a human hair, making treatments essentially pain-free. The treatment requires little to no downtime and results can begin to be noticeable within a few days after treatment.
Therapeutic Agents That Can Be Used with The Narins Gold Super Hydrafacial
The beauty of the Narins Superfacial is its versatility. This procedure can be tailored to each patient's individual needs by allowing various choices in liquid treatments such as hyaluronic acid fillers, neuromodulators, vitamin complex and mesotherapy, growth factors, and more!
Areas That Can Be Treated With The Narins Gold Super Hydrafacial
Entire Face is the most common area
Perioral (around the mouth)
Periocural (around the eyes)
Forehead
Neck
Back of hands
Décolleté
Getting Started
To schedule an appointment for this exciting new treatment, call
914.684.1000
.