Dysport™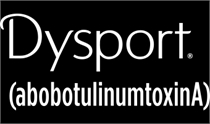 When it comes to treating facial wrinkles, choices are always a good thing. Dr. Rhoda Narins is pleased to offer the first FDA-approved alternative to BOTOX® Cosmetic called Dysport™ (formerly known as Reloxin). She gives her Westchester County patients a more youthful looking appearance with this and other modern facial rejuvenation treatments.
Highly knowledgeable in the field of facial injectables and fillers,
Dr. Rhoda Narins
has participated in research including the US FDA Clinical Trials on the cosmetic uses of
botulinum toxins
. Patients visit her from across the country to take advantage of her specialized expertise and attain natural looking improvements.
Benefits of Dysport Westchester
Dr. Narins' patients have found that, as with BOTOX Cosmetic in Westchester , Dysport injections can restore a more refreshed, youthful look to their faces. These simple treatments effectively correct:
Horizontal creases across the forehead
Wrinkles around the outside corners of the eyes
Vertical frown lines between the eyebrows
Lines and creases around the lips and mouth
Vertical and horizontal neck banding
Bunny lines on the sides of the nose
Puckered chins
During your private consultation, Dr. Narins will evaluate the unique needs of your skin and recommend an appropriate treatment plan. Some patients from Westchester County achieve enhanced results from a combination of Dysport and a facial filler, like JUVÉDERM® Injectable Gel, Restylane®, Radiesse®, etc.
How It Works
Dysport's active ingredient is a cosmetic form of botulinum toxin that works in a similar way to BOTOX Cosmetic. Unlike
dermal fillers
that fill out and add volume to wrinkles, Dysport temporarily relaxes the facial muscles that create wrinkles from repeated facial contractions over time and can be a good alternative to cosmetic surgery.
In a simple office visit that takes just minutes, Dr. Narins makes injections into the specific muscles that cause the targeted wrinkles. There is no down time required, so you can return to your daily activities immediately afterwards. Within 1 to 2 days, most patients notice their wrinkles and frown lines softening, and within about 1 week they have significantly faded.
What Makes Dysport Different?
While Dysport is similar to BOTOX Cosmetic in the way it treats wrinkles, there are some notable differences, which include:
Dysport has been found to spread farther from the injection site than BOTOX Cosmetic. This can be beneficial when treating large areas.
Improvements from Dysport often appear earlier than BOTOX Cosmetic, 1 to 2 days for Dysport instead of 3 to 5 days for BOTOX Cosmetic.
Dysport is a less expensive alternative to BOTOX Cosmetic.
Getting Started
Women and men from Westchester County visit dermatologic cosmetic surgeon Dr. Rhoda Narins for Dysport and other wrinkle treatments, as well as liposuction, and laser skin treatments. Patients visit her from around the globe for her specialized knowledge in cosmetic dermatology. You can schedule your private consultation by calling 914-684-1000