IPL Photofacial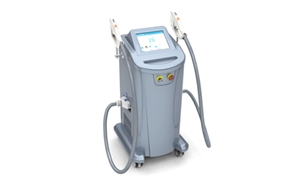 IPL technology is a home-run advancement in rejuvenation that is safe, non-invasive and has no downtime Photo rejuvenation erases skin damage without disrupting the skin surface and simultaneously treats a wide range of facial problems to improve the texture, uneven coloration and complexion of your skin. This is a low risk, "no downtime" treatment - you can resume all activities immediately. Dr. Rhoda Narins treats patients in the Westchester County Areas.
Dr. Narins now uses the newest FDA approved IPL system, the
Preci Pulse IPL Therapy System
. Preci Pulse uses multi-pulse technology to make the treatment more efficient, allowing Dr. Narins to select different pulse width and duration for different target tissues. The Preci Pulse combines the IPL option with a cooling system yielding a pain-free and comfortable treatment for patients.
What does IPL do?
IPL photo rejuvenation treatments produce smoother, even-toned, more youthful looking skin.
Dr. Narins
uses it to treat a variety of conditions in Westchester area patients including:
Vascular changes - red blood vessels
Telangectasia
Redness from rosacea & flushing
Skin discoloration & mottled pigmentation
Sun damage and photo aging
Brown spots such as freckles and lentigos
Redness after CO2 laser resurfacing
IPL minimizes red and brown spots while it evens out skin color and texture, and decreases that red flushed appearance from the skin.
What areas can be treated with IPL?
You can treat the entire face, neck, arms, hands, chest, back etc. This is a new breakthrough in anti-aging treatments.
How many IPL treatments are necessary?
Typically, 4-6 treatments are done over a 2-4-month period depending on your schedule. Treatments are spaced approximately 2-3 weeks apart.
How long will improvements last?
Improvement lasts for several years. Maintenance treatments at 6-12 months are wonderful to maintain the clearer, less sun-damaged and smoother skin.
How is the treatment preformed?
A cold gel is applied to the area being treated and the smooth surface of the IPL hand piece is gently applied to your skin. The pulses of light produce a slight sting and the treatment takes 15-20 minutes. A topical anesthetic cream may be used. A series of 4-6 treatments provide excellent long-term results, minimal adverse effects and high patient satisfaction.
When can I return to my normal activities?
You can immediately resume all regular activities. By dividing the treatment into several sessions, you get gradual improvements with low risk. This is a wonderful "no downtime" procedure.
Can I combine this treatment with other "No Downtime" treatments for enhanced results?
Combined no downtime procedures give the best results without invasive surgery. The following procedures combined with IPL produces excellent results:
Getting Started
Women and men from Westchester County visit dermatologic cosmetic surgeon Dr. Rhoda Narins for wrinkle treatments, liposuction, and laser skin treatments. Call (914) 684-1000 (White Plains) to schedule an appointment and learn more.