Benefits of Restylane®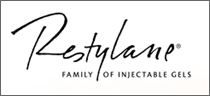 Restylane® is an FDA approved substance since 2003 and is one of most popular fillers in the US today. Dermatology Surgery and Laser Center was one of 6 centers nationwide that did the original studies for FDA approval.
Restylane® adds to the natural hyaluronic acid found in the body to make treated areas fuller, providing a natural, smooth, and attractive look. Restylan®e binds to water and replaces volume lost with sun damage and aging. It is used not only to fill in wrinkles, scars, and folds but it can also provide a mini-facelift by enhancing and filling in the following areas:
cheeks hollows
under eye hollows
cheek bones
chin and mid-face areas.
The lips and earlobes are also wonderful areas for Restylane® enhancement.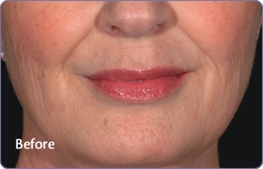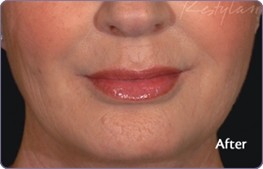 Results may vary for each patient. Photos courtesy of
Restylane
Restylane® Facelift
At our practice in New York City, Restylane® in combination with
BOTOX® Cosmetic
or Dysport is the gold standard for non-surgical lunchtime facial rejuvenation.
Restylane® is a stabilized non-animal hyaluronic acid gel. It is clear, transparent, viscous and is supplied in a syringe with a tiny 30-gauge needle. Restylane® degrades slowly so it lasts for 6-12 months. Patients usually see results 2-4 days post treatment.
Restylane® is non-allergenic so skin testing is not necessary and it can be used immediately. Because it is a non-animal product there is no risk of transmitting disease or eliciting an allergic reaction in patient's sensitive to beef, chicken, or eggs. Additionally, it can safely be used on people allergic to collagen.