In the News
Dr. Narins in the News
Castle Connolly Top Doctor 2019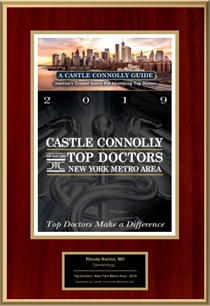 We are elated to announce that Dr. Narins have been selected as a Top Doctor by Castle Connolly once again. Castle Connolly is a consumer guide for the top medical specialists in the New York area.
Westchester Magazine Top Doctor 2017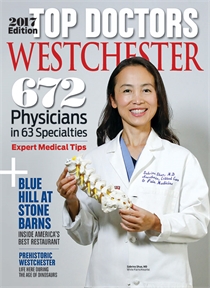 Westchester Magazine has again chosen Dr. Narins as one of the best doctors in Westchester County. She has the honor of being ranked one of the finest physicians in the country. Her expertise in
botulinum toxins
and
fillers
make her the premier doctor for looking your best.
Dr. Narins is Proud to be the First to Offer Kybella Neck Lift
Dr. Narins is proud to be the first physician in the Westchester area to offer Kybella Neck Lift to reduce excess fat below the chin. Kybella is a ground-breaking new FDA approved injection that is used to treat "double chin". Excess fat accumulation below the chin occurs for several different reasons, and is often resistant to diet and/or exercise. Kybella removes fat cells, preventing the treated area from accumulating or storing fat in the future. Schedule your consultation today by calling (914) 684-1000.
Learn More
Dr. Narins in the News - 2010
Dr. Narins Quoted in the Following Magazines in 2009
Dr. Narins Quoted in the Following Newspapers and Web Sites in 2007
Dr. Narins Quoted in the Following Magazines in 2006

Allure
May 2006

Westchester
November 2006



Dr. Narins in the News - 2005


Westchester
November 2005

Cosmopolitan
November 2005

New Beauty
Winter/Spring 2005

America's Cosmetic Doctors and Dentists
Copyright 2005

HealthNewsDigest.com
September 26 2005

Self
September 2005



Dr. Narins in the News - 2004


Self
December 2004

Connecticut Post
December 16 2004

Allure
December 2004

WESTCHESTER
November 2004

Good Housekeeping
November 2004

Self
October 2004

Allure
August 2004





Dr. Narins in the News - 2003


Time
May 19 2003

Connecticut Post
March 11 2003

Town and Country
2003





Dr. Narins in the News - 2002


Westchester
November 2002

Allure
September 2002

Time
May 20 2002

Cosmopolitan
May 2002

Allure
May 2002